Benefits
Prospecting Strategies for New Business Development
Learn a stress - free strategy for new business development from Sandler®, including the attitudes, behaviors, and techniques that you can immediately implement in your next outbound sales call.
Choose the right type of prospecting and the right type of prospects
Structure an effective, efficient prospecting call that sets more appointments
Engage with gatekeepers and talk to more decision-makers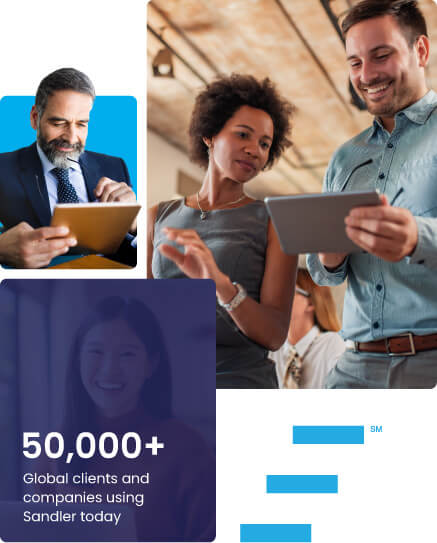 Overcome Your Top Prospecting Challenges
1
Stressed out over prospecting and avoiding cold and warm calls.
2
Concerned about new business numbers and constantly feeding the funnel.
3
Worried about a revenue plateau or shrinking market share.
4
Struggling with the challenge of getting the right number of conversations with the right decision-makers.
5
Dissatisfied with the velocity and size of your pipeline.
6
Frustrated because what you are used to doing to develop business is no longer producing the results you need.
7
Uncertain about how best to connect with prospects across multiple communication channels.
Strategies to implement on your next outbound call
Set up and follow a robust prospecting plan that leverages the right technology, maximizes warm lead opportunities, and sets up a predictable number of viable sales appointments.
You'll learn prospecting best practices for:
Addressing the self-limiting beliefs that make cold-out reach hard
Techniques for gatekeepers and voicemail
Virtual prospecting
Structuring and making the call
Getting more referrals and introductions
Dealing with difficult people and situations
Difficulty with goal setting, time management, and decision making
Prospecting Solutions
Learn The Best Practices of Today's Top Salespeople for Taking the Heat Off You and Your Potential Client
No Pressure Prospecting

Formulate successful stress-free prospecting strategies that will fill your pipeline, leverage technology, and set better sales appointments.

21st Century Prospecting

Level up with contemporary prospecting best practices. Learn how to build a strong, robust pipeline during any economic condition.

Social Selling Success

Learn how to leverage the latest technology, information, and social networks in this prospecting and selling course for sales reps looking to build relationships and start sales conversations through social media.
Find Your Solution
Leverage The Latest Proven Tactics to:
1
Take control of the business development process
2
Overcome call reluctance
4
Set up action plans for specific target markets
5
Generate more and better referrals